On Tour NZ – Central North Island – August 2020
Borders are closed, no international travel to our export markets, summer is coming – let's go! So off we went. Misha and I headed into the lower and mid-North Island to visit some well-known and long term customers, as well as some new ones.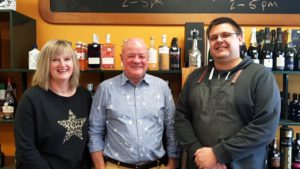 First stop Palmerston North with a wine tasting at The Village Trader, Liquorking and some other stops. Then on to Taupo for some more customer visits at the southern end of Lake Taupo followed by a Misha's Vineyard wine dinner at local establishment – The Brantry. The Brantry restaurant is run by the well-known Taupo sisters, Prue and Felicity Campbell. They have a reputation for very well run wine events which was again proved with a very successful evening.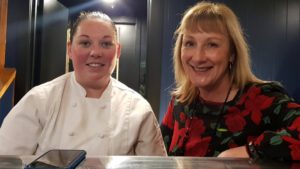 The next day was spend in Rotorua with a visit to The Princes Gate Hotel – a beautiful classically restored hotel in the heart of Rotorua. Our host Pandi Anbudasan was delightful and we were privileged to be able to stay a night a few days later. We also met Dario at Terrace Kitchen – where we had previously hosted a wine dinner, and some other customers.
That evening we hosted one of the most unusual wine dinners – in Tokoroa. Alberico's Italian Restaurant is an institution in Tokaroa. Alberico came to New Zealand from Italy in the 50's to work as an engineer on hydro schemes. He fell in love with New Zealand, and with Rachel whom he married. Years later Alberico's serves the traditional Italian cuisine that people love. While most of the matching wines were current release – we supplied a few back vintages of The Gallery Gewürztraminer at their request, and found Rachel also pulling some back Misha's Vineyard vintages from her own cellar! It was a full house and even the mayor attended!
On to my home town of Mt Maunganui (and Tauranga) where the local population and visiting Kiwi's seem to have kept the town thriving despite the lack of international visitors. Our long term supporter David at The Mount Wine Barrel was keen to see new vintage, as was Marcus at the quirky Mt Social Club. We also saw the newly completed boutique hotel and restaurant Clarence – in the old Tauranga Post Office. What an amazing space and somewhere to stay next trip. Macau on the Tauranga waterfront is another very successful restaurant that has listed Misha's Vineyard wines in their fusion dining style outlet.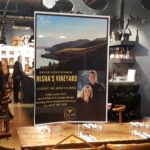 The final wine dinner for the tour was at Oscar & Ottos on the Strand in Tauranga. I've dined there a couple of time previously and love the place. Hamish has put a lot of his prior experience into creating a casual but quality dining experience in a highly competitive strip of restaurants.
While we did continue for a well-earned weekend break at Solitaire Lodge overlooking Lake Tarawera then a two day visit to Hawkes Bay – these were more time-out than business. Time to head home and sort out our next back-yard tour!