Misha's Vineyard grew from a passion for wine and a passion for marketing. Our professional lives took us to Singapore in 1993 where we had regional executive roles in marketing and sales for global companies. In our personal lives, we pursued our pleasure, our passion – food and wine. Each vacation would be spent touring wine regions of the world and learning as much as we could about the food, the wines, and the people from those regions.
When we came to that "strategic inflection point" in our lives, (a term coined by Andy Grove, one of the founders of Intel to describe that point when the fundamentals are about to change), we decided we needed a plan for the second half of our lives. Our vision was to be able to work together and build something. We recognised that we have always liked the journey as much as the destination, so it was important to create something from scratch.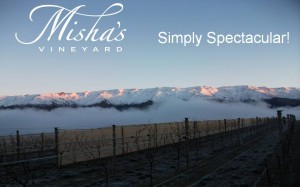 Having spent 16 years living in Asia, the idea of producing a range of superb wines suited to Asian as well as Western foods, and to be able to do so in the stunningly beautiful country of New Zealand, became our ultimate challenge. That monumental decision was made in late 2001 but it took us two years to find the perfect location. By the beginning of 2004 we started establishing the necessary infrastructure on a spectacular piece of land that became Misha's Vineyard and on the 8th of November, we planted the first 10 hectares (25 acres) of vineyard. The following year we planted a further 12 hectares (30 acres), and in 2007 another 4 hectares (10 acres) – and we haven't finished yet!
Looking back, it's probably not surprising that we ended up with a vineyard given our passions for wine and marketing, and our predilection for a quest! However it didn't seem like an obvious path at that "strategic inflection point" and took quite a bit of time to figure out. It's possibly the enormity of the project that kept it from being our first thought! We look back now and wonder how we made that life-changing decision now that we realise the impact, consequences and sacrifices.
It's been a long journey so far, we now export to 17 countries and have already been named as one of New Zealand's Top 20 Wine Producers, and we're still only in the 'early days' in terms of producing wine.
So would we have made the decision to develop a vineyard if we knew then what we know now – that a prolonged Global Financial Crisis was about to hit? Absolutely – but the decision may have just taken a little longer….or perhaps a lot longer!