The legend of Ah Foo is a combination of fact and fiction. Misha's Vineyard is situated on one of the most amazing sites in the Bendigo region of Central Otago. The land was the home of many Chinese from Canton who came to New Zealand in the gold rush of the late 1800's. Discovery of artifacts and the re-creation of a gold miners hut form the basis of a story of one such Chinese fortune seeker – Ah Foo.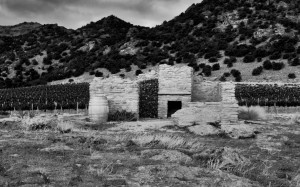 The re-creation of Ah Foo's House in the Top Block of Misha's Vineyard was done with the assistance of stonemason Trevor Kitto from Alexandra, then further developed in 2009 with the help of the stonemason students of the Otago Polytechnic from the Central Otago campus in Cromwell. The structure is in the style and using similar construction methods of ruins found in the local Bendigo area where remains of several houses, schools and shops are located. All the stone used in the reconstruction was from the vineyard or nearby surrounding area. Ah Foo's House is now regularly used for wine tastings with visitors to the vineyard, and for Misha's Vineyard staff functions.
The story of our Chinese gold miner Ah Foo, is told in the chapters on this site.