Returning to New Zealand from Asia, our home for many years, we wanted to find the best place in the world to grow cool climate grapes and most particularly Pinot Noir – the "holy grail" of grapes and also the most difficult to grow!
After eighteen months, and much walking over potential vineyard land, we found ourselves standing on the dramatic lakefront terraces of Bendigo Station, a high country sheep station in the Central Otago region of New Zealand, where some of the world's finest Merino wool is grown.
We soon learned that other explorers had been on this land before. Back in the late 1800s many Chinese immigrants joined the gold rush in Central Otago as they had in California, Australia and elsewhere. The neatly stacked gold tailings in the gullies are the remnants of their alluvial mining and the crumbling remains of stone miners' cottages are evidence of a tough existence on this land. Most of these Chinese prospectors came from the countryside of Canton in southern China – some 10,000 kilometres away. And like all pioneering history, the story of how they endured the harsh conditions of this rugged landscape to find their fortunes in the most southern goldfields of the world, is a remarkable story of adversity and adaptation.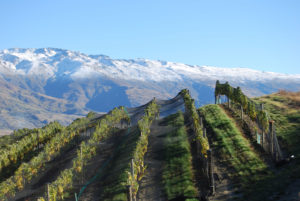 Finding this perfect location on which to establish Misha's Vineyard was the first milestone in our journey since the selection of a site is the single most important decision for any vineyard. It requires meticulous investigation of the soils as well as understanding both the macro- and meso- climatic conditions. We hoped this land, steeped in gold-mining history, would once again produce riches — the 'new gold' from the land.
Already we have discovered so much. We've discovered how special this region of Central Otago really is, we've also discovered some amazing things about the unique piece of land we chose for our vineyard, and we're constantly discovering things about growing the best grapes and making the best wines.
This is the most ambitious adventure we've ever undertaken and we hope you enjoy being part of it.
Andy & Misha Wilkinson