To make exceptional wines, you need an exceptional winemaker. Internationally renowned Oliver "Olly" Masters, after just one visit to the vineyard, joined the Misha's Vineyard team in 2006.
Olly has forged some of New Zealand's most consistently fine Pinot Noir over the past 20 years and carved a reputation of one of New Zealand's leading winemakers and wine judges. His 'considerate' winemaking style allows the vineyard and fruit to speak for themselves. The exacting viticulture regime at Misha's Vineyard goes hand in hand with this considerate approach so that minimal intervention is required during winemaking.
Our goal has always been to create a repertoire of elegant cool climate wines that matched some of the more subtle and exotic food flavours of the world. And we wanted our wines to be authentic – speaking clearly about their origin.
Achieving elegance in a Pinot Noir, without forsaking any intensity of flavour, requires careful crop level management. This means that we may need to drop fruit prior to ripening to ensure high quality. Olly, as an 'in the vineyard' winemaker, collaborates with our Vineyard Manager Michelle, and consulting viticulturalist, Robin, to ensure the vines are only ever ripening the appropriate amount of fruit.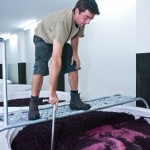 And everything at Misha's Vineyard is done by hand. Our experienced team, who come from as far away as South America, Europe and Asia, tend our vines and harvest our fruit. Our approach to winemaking is similar – even to the hand plunging of the Pinot Noir ferments.
Two-thirds of the vineyard is planted in Pinot Noir and the rest comprises the aromatic white varietals including Pinot Gris, Gewurztraminer, Riesling and Sauvignon Blanc – all of which are so perfectly suited to the Central Otago climate.