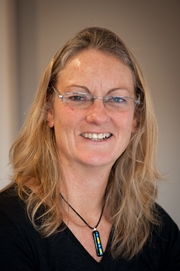 Jill Massey
Administration Manager
Jill's goal is to remove all the 'boring' paperwork, compliance forms and regulatory work from Misha, Andy and the team, enabling them to do what they do best – make and sell great wine!
She is one of that strange(?) breed that enjoys figures and creating order from the chaos of transactions within a business – and making sure everything balances!
Jill's knowledge and experience has been gained 'hands on' – mostly in Chartered Accountants' offices, but also roles such as Practice Manager of a dental surgery and Executive Officer/Bursar at a Catholic girls' secondary school. The wine industry is proving to be the most enjoyable and interesting environment to work in, she says.
She admits to living most of her life north of Auckland (in and around the wine district of Matakana), then 9 years in Napier (amongst the wineries of Hawkes Bay), but when the opportunity arose in 2008 for a permanent move southwards, there was no hesitation. Jill now calls Central Otago "home" and loves the lifestyle, along with the different style of local wines! She can be found most weekends, walking amongst the stunning landscape, biking the trails, or on the golf course.