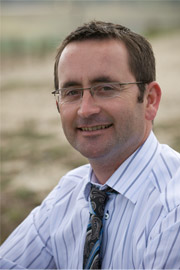 Alistair King
Accountant & Business Advisor
Born and raised on an orchard in nearby Roxburgh, Central Otago, Alistair headed to Christchurch after high school where he enrolled in a Diploma of Horticulture at Lincoln University. Following that he successfully completed a Bachelor of Commerce (Horticultural).
Alistair's first role after graduating was with a large farm accountancy firm in Christchurch where, given his horticultural background, he had an affinity with the wine industry clients and worked with some of the larger wineries in the Christchurch area.
Noticing the growing acclaim for the Central Otago wine region and the rapid expansion of vineyards, Alistair saw an opportunity to set up a specialist practice for the wine industry. Joining Crowe Horwath (then known as Cook Adam & Co) in their Wanaka office, Alistair subsequently established his practice and over the past few years has developed an impressive client base.
Alistair, now Principal with the firm, is the leading wine industry specialist in the Central Otago region and acknowledged as one of the top five specialists in New Zealand.