Misha's Vineyard has now been accepted as a member of the New Zealand FernMark Licence program – a program developed by The New Zealand Story Group to help promote and protect New Zealand products globally.
More and more people around the world are concerned about the authenticity of a product. This is one of the key reasons for the development of the FernMark as a trademark officially recognised and endorsed by the New Zealand Government. It's a mark of trust that communicates a product's country of origin and connection to New Zealand. We are now delighted that Misha's Vineyard can now contribute to the program because it's not only about one's individual excellence as a brand but also about our collective storytelling as a country. With more and more brands using the FernMark, we can build consumer confidence and help drive preference for New Zealand products around the world.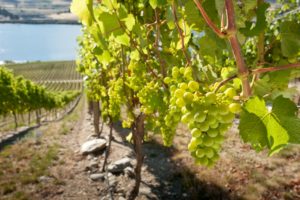 The FernMark Licence Programme is managed by the New Zealand Story Group – a group that came about through a Government initiative to enhance New Zealand's international reputation by enabling businesses to leverage their "New Zealandness" to their competitive advantage. The programme provides tools, skills and knowledge to help businesses communicate their stories about New Zealand to shift perceptions, open doors and hopefully grow opportunities. There are now 278 licensees carrying the FernMark on over 1 billion products on shelves around the world.
The New Zealand FernMark symbol carries important values – kaitiaki, integrity and ingenuity. Kaitiaki is all about the care of people, place and planet and this extends to everything we do and everything we create – seeking not to damage what is precious. That's particularly relevant value for us as custodians of our 57-hectare single vineyard site in the Bendigo sub-region of Central Otago. With our spectacular gullies of native kanuka and manuka grasses designated 'Outstanding' Landscape, we have an important role as custodians of this land to ensure what is special and precious stays intact and undisturbed for future generations. And the sections of our land where we farm our grapes, is done under the strict codes of Sustainable Winegrowing New Zealand – a holistic vineyard programme designed to provide a 'best practice' model for the vineyard and winery.
Globally there has been an overwhelming focus on where our products come from and how they're produced in terms of environmental and social impacts. New Zealand is in a very advantageous position for environmentally conscious consumers. We believe that using the New Zealand FernMark represents the story of who we are and where we're from – it's a symbol that people recognise and trust and a trademark that embodies our values – the values of our New Zealand story.