Our 2021 The Soloist Pinot Rosé has sold out! Misha's notes on Rosé.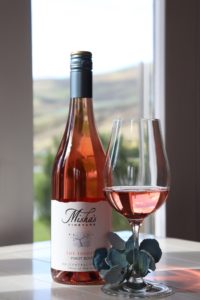 As we begin the New Year, sadly we have said farewell to our 2021 The Soloist Pinot Rosé. A delicious wine that we hoped would last through to August – just before the release of the new vintage, as the prior vintage had. However this year's Rosé sold out in just four months, in spite of producing considerably more than last year. And these days, rosé isn't just a wine to be sipped over summer but it's consumed year 'round. So sadly, fans of this wine will have to wait until September 2022 to taste the next vintage of 'The Soloist'.
It's been an interesting journey with making rosé – a wine that none of us contemplated in the first few years of making wine at Misha's Vineyard. But about ten years ago, around the globe, there seemed to be a movement towards a lighter style of wine. Pale pink and salmon-hued wines caught the eye of many consumers, especially millennials, and the rosés of Provence came to the fore. Not surprisingly, countries and regions outside of Provence, France, quickly joined the movement to 'drink pink' and started crafting their own versions based on various red grape varieties.
Over the past five years the growth or rosé has risen sharply and here in New Zealand, the array of rosés is remarkable. With New Zealand's most-planted red grape being Pinot Noir, and the fact that this variety is ideally suited to producing a beautifully aromatic wine, it's not surprising that pinot noir rosés seem to be attracting the most acclaim.
When we first discussed producing a rosé in 2015, it seemed a logical step given two-thirds of our vineyard was planted in this variety and we felt we had a clone of Pinot Noir that would enable the perfect palate profile. Olly, our winemaker, who takes his winemaking very seriously and focussed on crafting fine and age-worthy wines, expressed some concerns about adding a rosé to our range. He felt there was likely to be a lot of discussion over exactly what 'hue' the rosé should be and potentially there would be a clash between producing fine wine and fad wine. We didn't make rosé in that year.
However we kept discussing the possibility and Olly, who judged various wine shows over the next year, tasted a lot of rosé, and felt that there were some good examples being produced and that the sweeter more frivolous styles were giving way to a drier and more serious style. He definitely warmed up to the idea of producing a rosé – as long it was a 'serious example'.
In 2016, we produced our first pinot noir rosé. It was exclusively from Clone 114, which is grown on the lower lakefront slopes of the vineyard. It's a Dijon clone originally from the Côte d'Or in Burgundy. It has good bunch weight with tight compact clusters of small berries and along with the more usual strawberry and cherry aromas, it has some nice spicy and savoury characters. Just 140 cases were produced for this first vintage with much of it ending up being served by-the-glass at the Hilton Hotel in Queenstown, having been selected blind out of a line-up of local rosés. At that stage, having a rosé available just over the summer months seemed perfectly appropriate, but we decided having had the success in the first vintage we would produce a little more the following year.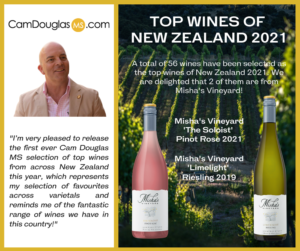 Over the past six vintages, Olly has made some small tweaks in how we produce our rosé. The selection of the clone 114 still plays a role however it usually also includes Pommard Clone 6. In terms of the 'time on skins' to extract flavour and colour, it's generally around 24 hours as the fruit is quite cool – although it has been as long as 48 hours after a very cool season. The 2021 vintage also had a small proportion of the juice that was fermented in older oak barrels to add complexity. What Olly is trying to achieve with the Rosé is a dry-style, but with plenty of varietal character and fruit purity. And it seems to be working as after just six vintages, we are acknowledged as one of premium rosé producers in New Zealand.
We were very honoured this year when 'The Soloist' Pinot Rosé 2021 was awarded No. 1 Rosé by Bob Campbell MW, earning 95 points and a gold ribbon ranking. Click here
New Zealand's only Master Sommelier, Cameron Douglas, announced his inaugural selection of the Top Wines of New Zealand 2021 which included our rosé. Click here
It was also the highest ranked rosé in David Walker Bell's 'Top 10 Tasting' for Wine Folio. Feedback from the tasting panel for this tasting said:
" Aromatic, ripe red fruit – raspberry, cranberry, Morello cherry and plum, with a delicate floral note. The panel noted "Beautifully balanced, with tremendous depth". Dry, with just a nudge of fruit sweetness, and a flowing acidity. Complex, with layers of flavours revealing themselves as the wine opened up in the glass. Brioche and crème caramel as well as a hint of star anise and rosehip syrup. Vibrant, deep and with real character. Well-liked by everyone who tasted this."
Our winemaker Olly, has definitely has proven he can work his winemaking magic to produce a rosé that's a 'serious' wine – a seriously delicious one!
Note: Misha was asked to write the back page of the summer issue of World Magazine. It's a story about rosé! See below