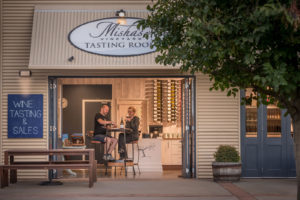 For the first 10 vintages at Misha's Vineyard, our focus was on making great wine and establishing our distribution footprint around the world. At the beginning of 2016, we finally felt ready to take on another key aspect of a wine business – opening a Tasting Room! Some wineries do this when they launch but we have always had a 'no compromise' approach to what we do and we felt in the first years of operating, there was more than enough to focus on if we were going to do things really well.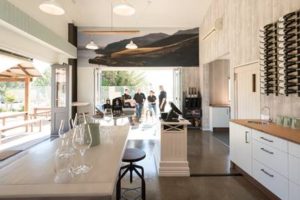 Although Misha's Vineyard is a spectacular 57-hectare estate, the vineyard is 10 minutes out of the town of Cromwell and is accessed via a 3km steep dirt road, so a Tasting Room was never going to be practical on the vineyard itself. During our search over many months, we considered many options but finally settling on a site facing the beautiful Lake Dunstan – a place that was operating as a café. After taking over, we spent a month transforming the space from café to a purpose designed wine tasting environment. Our design concept was to create a simple yet elegant space that would enable guests to have a relaxed personal tasting experience. A French country inspired theme was chosen as the perfect backdrop for the pale blue and gold of the Misha's Vineyard brand with the interiors and furniture being custom-built. We also wanted to bring the atmosphere of the vineyard into the tasting room and put large-scale photographic murals on four walls, showcasing the work of renowned local photographer Tim Hawkins, who has been photographing Misha's Vineyard since the ground-breaking ceremony in 2004. We also moved our office to above the Tasting Room.
Over the past two years, we haven't changed anything in terms of how we deliver our 'wine experiences'. Everything in terms of the design and how we operate has worked out perfectly – but then it was meticulously planned from the outset!
As well as getting feedback from guests who visit us, we have monitored our reviews on Tripadvisor which have been a great indicator of how the Tasting Room has been received. In just two years, we are rate at no. 6 of "Top Attractions" in Cromwell and No. 3 for "Winery/Vineyards" which is remarkable given many of the wineries and attractions have been operating for many many years. We were delighted to also just receive a Trip Advisor 2019 Certificate of Excellence due to our consistent 5 star reviews.
But what excites us the most are the comments that people leave when writing reviews. We are delighted that people are enjoying their wine experiences with us, and opening a Tasting Room has been a fantastic new aspect to our wine business.
Some of the comments from our reviews area below or you click here to read all our reviews on Tripadvisor.
"WOW! Awesome wines and great service…I highly recommend this as a tasting stop and I will be going back!"
"We were greeted and given totally amazing service . The beautiful story of the vineyard was told to us with great passion. The wines were lovely . It was a great end to our day . Totally amazing service."
"Absolutely exquisite experience"
"Friendly and welcoming with authenticity! …All the wineries we visited in Otago do a fabulous job…if you only have time to visit one, make it this one."
"The set up of the tasting room may be the best in Central Otago — certainly better than any we have experienced."
"If you have even a passing interest in wine you'll walk out of this tasting experience knowing more than you did when you came in — and certainly having learned a lot about the Central Otago region wine industry."
"Did the walking wine tour and this was by far the best of the four winery tastings (in my opinion of course)."
"Awesome service and explanation of the wines. The staff were brilliant and the set-up is 1st rate. Couldn't be better!